2015-12-08 06:28
Kontynuacja Scenariuszy ATA dotyczących pary Walut USD/JPY...
począwszy od  grudnia 2014...
Wall Street Fly High but Focus on JPY & Apple...
USD/JPY - ALWAYS BE READY FOR ALTERNATIVE SCENARIO...
ze względu na strukturę wewnętrzną fali 4 jako korekty płaskiej a-b-c czas jej ukształtowania wyniósł ostatecznie ponad 8 miesięcy...
Obecny impuls wzrostowy to fala 5-ta...
To czy będzie załamana czy też osiągnie nowe maksima zależy :
formalnie od Polityki & Decyzji FED...
a nieformalnie do Reakcji Kreatorów Trendu czyli Smart Money na owych Decyzji...
Najbliższy Werdykt FED już 16 grudnia...!!!
but One More Time...
5 FALA TO 5 FALA...& THAT'S IT...!!!
USD/JPY Weekly Charts :
grudzień 2014
 czerwiec 2015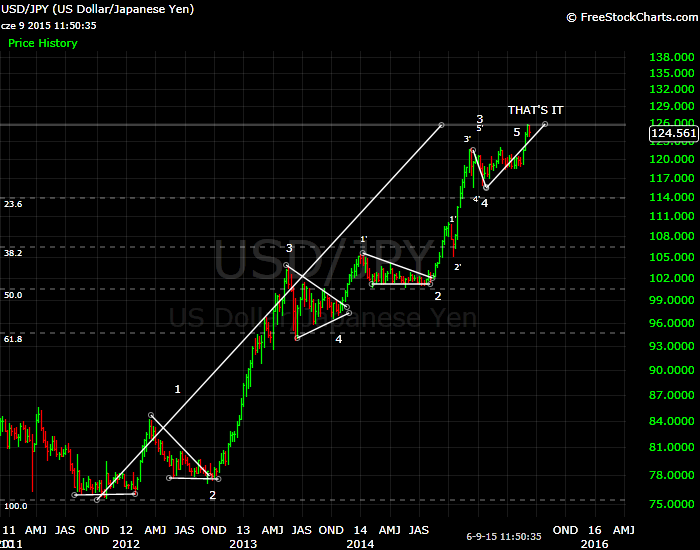 grudzień 2015