2017-03-18 10:58
Mainstream Informacyjny koncentruje sie przede wszystkim na Mega Optymistycznych Scenariuszach dla Gospodarek & Rynków Akcji z   US Economy  &  Wall Street na 1 Planie...
co jest wrecz uznawane jako " Pewnik "...
podobnie jak Film " La La Land " , który był z kolei Oskarowym Pewniakiem...
a jednak Rzeczywistosc  okazała sie  Odmienna...
Global Show in New Age Circus Maximus  is  still  ON...
WALL STREET & FOREX - NEW AGE CIRCUS MAXIMUS...
co potwierdzają  dokładnie ostatnie marcowe Posiedzenie Głównych Banków Centralnych...
z  nadzwyczaj  Chimerycznymi Impulsami Informacyjnymi  w stylu...
ECB  -  Possible  Rate Hike before End of  European QE...!!???
&
FED -  " Dovish " Rate  Hike...!!???
or
BOJ - FED  Rate Hike  is not Danger for Emerging Markets...!!???
" Everything " ,  with mainstream  big  help ,  to account for  Smart Money Market Strikes...
Everywhere  we can  read  or listen...
"  Don't  Discuss with Market "
but...
in Present  Euphory  Phase  we must  Discuss  & Ask Contrarian Questions...!!!
when Cover Factor is Warning...!!!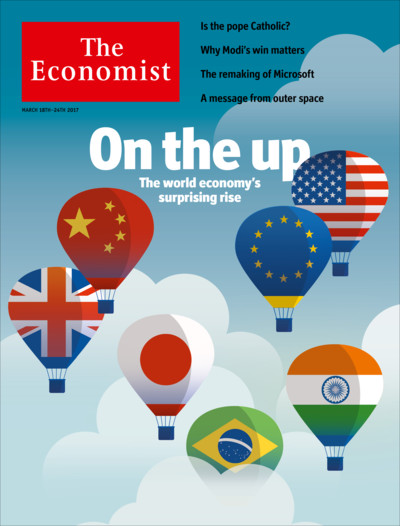 Please remind ypurself  how   CONTRARIAN ATA MIND OVER MARKETS  works 
Example of Italian Banks Crisis  Cover from ATA Blog...
July 2016
EUROPEAN BANKS - TURNING POINT HIGH PROBABILITY ...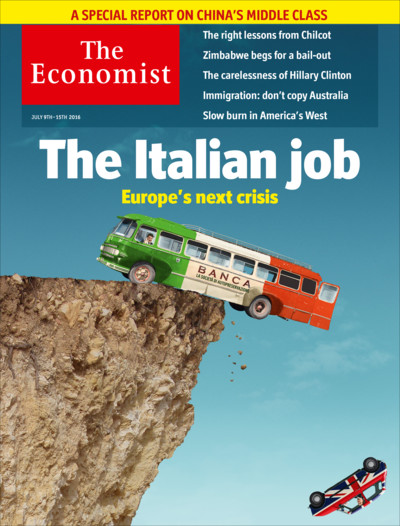 one more time...
W tym miejscu powróćmy do Sedna Sprawy...
FAKT, o którym należy zawsze pamiętać, to FAŁSZYWY TREND INFORMACYJNY...!!!
który w połączeniu z...
Present Economist Cover  - On the up...
&
Last   ATA  WARNINGS...
TRUMP EUPHORY MOTIVE - IS EVERYBODY IN...!!???
US STOCKS ACTIVE WARNING - DOW TRANSPORTATION...
US STOCKS ACTIVE WARNING - DOW UTILITY...
wskazuje na Duże Prawdopodobieństwo  Aktywacji Fali RISK OFF -  Odwrócenia Trendu Wzrostowego na Spadkowy na Wall Street,  co  uderzy we wszystkie pozostałe Ryzykowne Aktywa na Inwestycyjnym Globie...
Oczywiście Warunek to Ukształtowanie Formacji Odwrócenia Trendu...!!!
zgodnie z...
ATA MIND OVER MARKETS...
ATA MARKET MODEL : 
First...Market Motive...
Second...Market Technical Formation...
 Active Motive - TRUMP EUPHORY  & Economist Cover 
 Technical Formation -  M  -  2B  or  Shooting Star 
Remember... 
MARKET TOP IS ALWAYS  FORMING ON SUPER GOOD NEWS. ON MAINSTREAM MEDIA...!!!
&
MARCH TIME WINDOW  FOR  WALL STREET  TURNOVER  IS CLOSE TO THE END...!!!
In Sum...
FUTURE MARCH WEEK ( S)  ARE VERY IMPORTANT TIME WINDOW FOR MARKETS...!!!
DJIA , DJTA & DJUA  Monthly Charts :