2017-01-23 12:28
IT'S DONE...!!!
TRUMP is Now 45 US PRESIDENT...
&
Nothing Else...
Why ...Becasue
He is Another Big Market Motive for Smart Money...!!!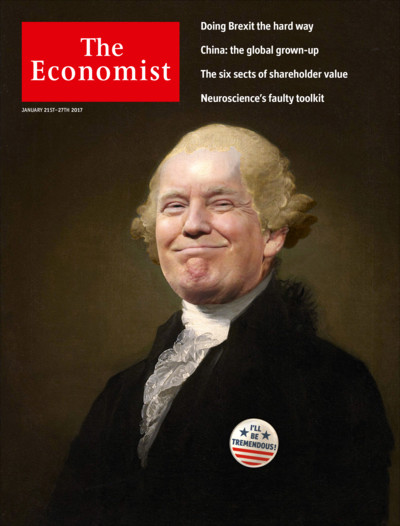 Remember...
ATA from :
Before -  5.11.2016 - TRUMP - INTENDED MAINSTREAM SCARY MOTIVE...
& 
After -  11.11.2016 - TRUMP like BREXIT - SMART MONEY SHOW MUST GO ON... 
Now Smart Money  Back to  Market Reality...
like Always...
On Last  Friday- TRUMP Inauguration Day  there was NO FIREWORKS  on Wall Street...
&
All List of Warnings :
TRUMP US STOCKS RALLY VOLUME WARNING...!!!
DJTA - SHOOTING STAR ON WALL STREET SKY...
Wall Street Warning - Banks Earnings vs Smart Money Reaction
US Banks Warning - Earnings vs SM Reaction - Continuation...
is still Active
Preferred ATA Scenario for 2017...
GLOBAL DOW - ATA PREFERRED 2017 SCENARIO...
is still in  Market Game
Present  ATA Game Plan 
Now preferred is waiting for Correction Continuation...
Focus on :
Fibonacci Retracements of TRUMP RALLY...
Ending Diagonal Formation on Nasdaq...
&
one more thing -  Rrecord Net Short Position on 10y Treasury Futures...
na rynkowym marginesie...
Korekta Techniczna jest Naturalnym & Potrzebnym Elementem każdego Trendu...
dzięki której de facto ponownie rośnie stosunek Zysku do Ryzyka przy Wejściu na Giełdowy Parkiet...
dokładnie tak jak to miało miejsce tuż przed TRUMP VICTORY DAY - 8.11.2016...
Konkluzja Inwestycyjna ATA...
Znacznie Lepiej & przede wszystkim Bezpieczniej jest obecnie Poczekać na :
po pierwsze Konkrety ze strony  TRUMP-a 
po drugie  Rozwinięcie Korekty Technicznej
w pryzmacie Konkretów - najbliższy Piątek  ( 27.01 )  - Spotkanie TRUMP - May...
This will be First TRUMP Test...in Real Action...
DJIA , S&P500  & Nasdaq Intraday ( H5 ) Charts :