2016-07-13 09:13
W bezpośrednim nawiązaniu do wpisów ATA ukazujących szerokie spektrum Europejskich Banków :
EUROPEAN BANKS - TURNING POINT HIGH PROBABILITY ...
EUROPEAN BANKS - STRATEGIC VIEW...
&
wpisów ATA dotyczących sensu stricte Największego Włoskiego Banku - UniCredito Italiano :
UNICREDIT IS THE MASTER RISK ON KEY...
Niezmiennie...
W ramach kumulacji medialnej akcji pro-kryzysowej...
PUNKTEM ZWROTNYM okazał się COVER FACTOR 
Okłada The Economist  ...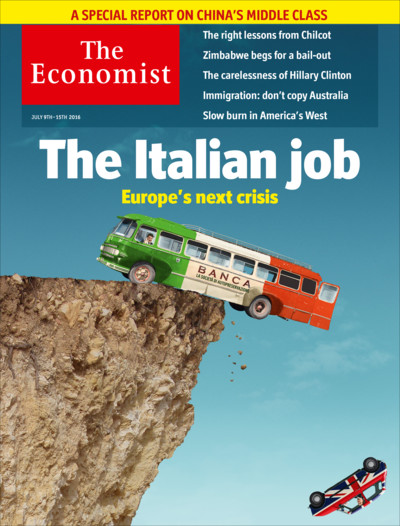 Strategia Kontrariańska ATA  ukazana ex ante w ramach wpisów ATA.... począwszy od 2 lipca...
jest konsekwentnie realizowana...!!!
BREXIT TIME GAME...Look at Crises History Cards...
Mając jednak bezwzględnie na uwadze, fakt, iż zawsze w takich skrajnych przypadkach króluje fałszywy trend informacyjny...
należy zastosować kontrariański punk widzenia, i zadać kluczowe pytanie, czy obecnie nie jest realizowany scenariusz w stylu ITALIAN JOB...
mający na celu skupienie ekstremalnie przecenionych akcji europejskich banków na fazie przerażenia medialnymi objawieniami o " włoskim upadku "...
Always Remember...
ATA MIND OVER MARKETS...
ATA MARKET MODEL : 
First...Market Motive...
Second...Market Technical Formation...
Motyw -  COVER FACTOR - SKRAJNIE NEGATYWNY TREND INFORMACYJNY dot. Włoskich Banków & Przyszłego Kryzysu w Europie  vs REALNE PRZYSZŁE DZIAŁANIA BANKÓW CENTRALNYCH z FED, ECB, BOJ , SNB & BOE - ( Najbliższe Posiedzenia Banków Centralnych pod koniec Lipca )
Formacja Techniczna -   W  or  Invert 2B  Monthly & Weekly 
SO...
IT'S HIGH PROBABILITY GREAT OPPORTUNITY to INVEST in EUROPEAN BANKS  & STRICTE ITALIAN SECTOR - UNICREDITO ...!!!
na rynkowym marginesie
UniCredit sprzedaje 10% Pekao SA...
tym samym akcja dokapitalizowania trwa...
Dziś Analiza poświęcona ŹRÓDŁU  MEDIALNEGO KRYZYSU - WŁOSKIM BANKOM z UNICREDIT na 1 PLANIE...
ODWRÓCENIE TRENDU TRWA...
JEDNAK W OBLICZU TAK SILNEJ DYNAMIK WZROSTÓW...
ISTOTNY POZOSTAJE ZASIĘG EWENTUALNEGO COFNIĘCIA - STOPIEŃ REALIZACJI ZYSKÓW...
Reasumując kluczowe pozostają kursy zamknięcia...
całego obecnego tygodnia
&
oczywiście w szerszej perspektywie lipca...
niezmiennie na rynkowym marginesie...
to jak w/w WŁOSKI BANKOWY ZWROT oddziałuje na ryzykowne aktywa w Europie & USA wskazuje Z DUŻYM PRAWDOPODOBIEŃSTWEM NA  KLUCZOWY PUNKT ZWROTNY & AKTYWACJĘ FALI RISK ON...
która powinna oddziaływać  i de facto wpływa również na Rynki EM...w tym PLN  ( oczywiście po zdyskontowaniu Werdyktu Fitch dot. Ratingu Polski - 15 lipca )...
Obecny Impuls RISK ON powinien być  z rosnącym prawdopodobieństwem kontynuowany do najbliższych Posiedzeń Banków Centralnych - pod koniec lipca...w oczekiwaniu na kolejne Plany Symulacyjne ze strony CENTRALNYCH KREATORÓW...
FTSE Italia ALL Share Banks & UniCredito Italiano Charts : 
( Uwaga : w celu wyświetlenia czytelnych wykresów proponuję zastosować - otwórz grafikę w nowej karcie )