2015-11-17 05:53
Wszyscy wiedzą " for sure " iż już w grudniu FED ośmieli się i zdecyduje w końcu na ruch...
jednak nie bez powodu należy pamiętać ile razy w przeszłości FED miał to uczynić...
A JEDNAK ZANIECHAŁ RUCHU...
Obecnie Prawdopodobieństwo Podwyżki Stóp Procentowych sięga POZIOMU >  70%...!!!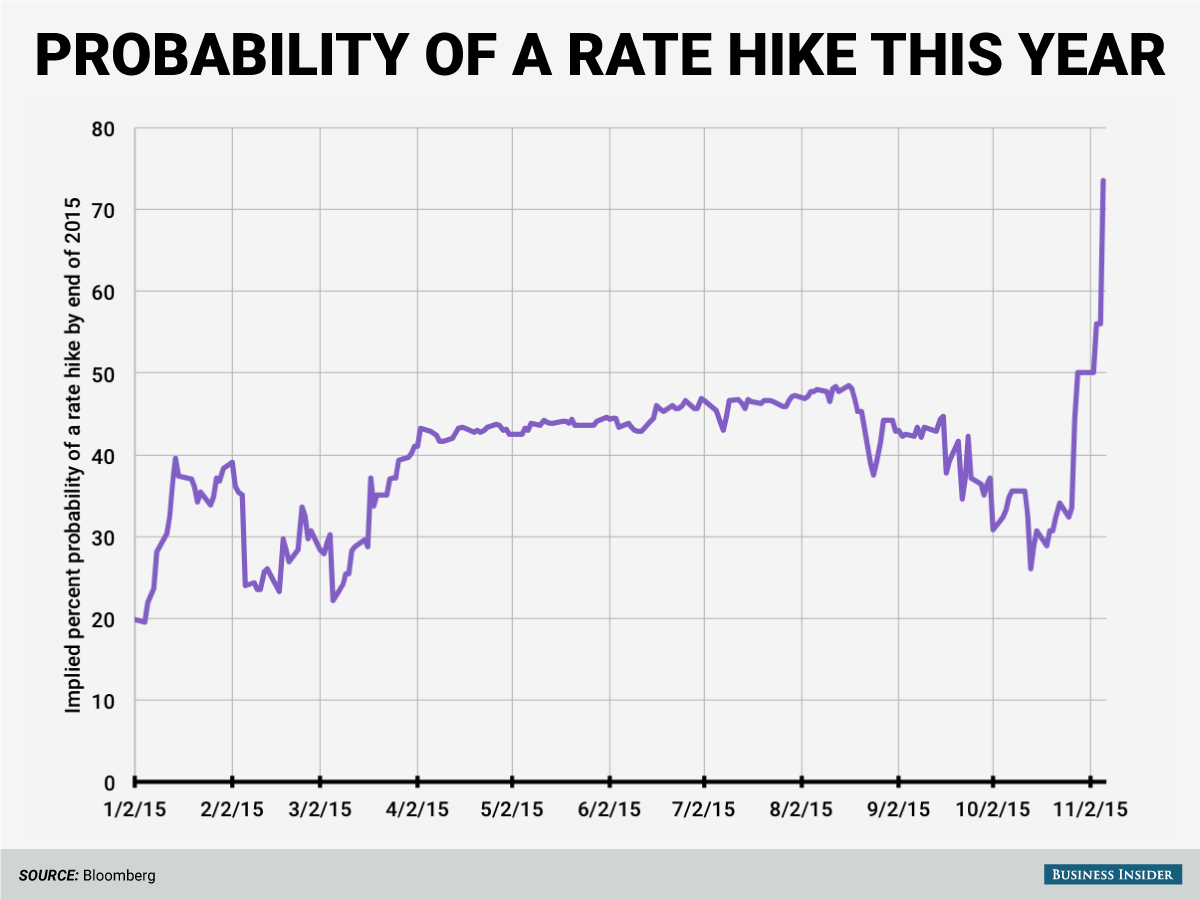 Tym samym " Wszyscy już wiedza napewno..."
one more time...
Podczas kiedy większość tzw TALKING HEADS, kreuje wizje dot " oczywistych " podwyżek stóp procentowych...JUŻ W GRUDNIU...
proponuje, jak zawsze MIND OVER MARKETS...
& bezpośrednio z tego wynikającą...
KLUCZOWĄ KONTRARIAŃSKĄ TEZĘ ATA - ZEJŚCIE PONIŻEJ ZERA...
from ZIRP to NIRP...
FED począwszy do 2000 roku nie jest już tylko Amerykańską Rezerwą Federalną...
stał się de facto GLOBALNYM STRAŻNIKIEM SYSTEMU...
CZY ZATEM SAM Z SIEBIE MIAŁBY GO DESTABILIZOWAĆ PODNOSZĄC STOPY PODCZAS GDY ECB W TYM SAMYM NAJBLIŻSZYM GRUDNIU ZAPOWIADA ZWIĘKSZENIE  EUROPEAN QE...!!???
Reasumują KTOŚ BLEFUJE...
PRAWDA RYNKOWEGO " EKRANU " jest taka, iż FED NIE MA ŻADNEGO FINANSOWEGO POLA MANEWRU...gdyż trwa przecież...
FED TIME GAME...

A TO, IŻ JEST TO WYŚMIENITY MOTYW RYNKOWY DLA SMART MONEY...
a to już inna..stricte spekulacyjna historia...
Remember...
FED & ELLIOTT IMPLICATIONS - EUR/USD...   - MARZEC 2014
EUR/USD - GIGA PRECISION - MARZEC 2015
EUR/USD - 1 YEAR MOVE - March 2014 vs March 2015 - MARZEC 2015
&
Remember...
FED TIME GAME or CONCRETES SCENARIO ...!!???
FED DAY..WOW...BUT REMEMBER FED IS DEAD...
EUR/USD Charts :