2016-08-27 12:21
W bezpośrednim nawiązaniu do  SAGI Wpisów ATA dotyczących sensu stricte MATERII  FED...
DXY - FED MINUTES vs DUDLEY SPEECH...
FED MINUTES - Another View of FED TIME GAME...
Natomiast za Wstęp niech posłuży Cytat z kwietniowego wpisu ATA   oraz jeszcze wcześniejszego datowanego na marzec 2016...
First - kwiecień 2016 
YELLEN IN A GAME OF F/X THRONES ...
" FED NIE MA INNEGO WYJŚCIA JAK GRA NA CZAS - FED TIME GAME...!!!
tym samym...
Preferowany Scenariusz Warunkowy sygnalizowany z dużym wyprzedzeniem przez ATA już 2014 roku 
FED-Day - TIME GAME- ATA Preferred FED & Markets Scenario
jest konsekwentnie REALIZOWANY...!!!
Potwierdza się zatem Teza ATA , zgodnie z którą FED , po Upadku Lehmana w 2008 roku , stał się GLOBALNYM STRAŻNIKIEM SYSTEMU  " ... " 
Second - Marzec 2016 
FED - Next Central Motive for Smart Money...
" czy należy odnosić się poważnie do Projekcji Podwyżek Stóp Procentowych w USA podczas gdy...
- Super Mario użył 10 marca kolejnej " SUPER PRINT BAZOOKA "
- BOJ aktywował NIRP... 
Czy zatem , uwzględniając powyższe fakty, FED sam dążyłby do IMPLOZJI GLOBALNEGO SYSTEMU...!!???    "
 STANOWCZO  NIE...!!!
 stąd też   wręcz nieustanny  poczawszy od marca 2014 Werdykt  FED  " GRY NA CZAS "...  "
Powracając do obecnego MARKET MATRIX  ,  FED TIME GAME pozostaje Aktywnym Scenariuszem Warunkowym ATA...
tym bardziej, iż od marca 2016 GLOBALNA SZACHOWNICA BANKÓW CENTRALNYCH uległa kolejnej CENTRALNEJ ZMIANIE...
kolejni Członkowie " CENTRALNEJ DRUŻYNY PIERŚCIENIA "  - BOE , RBA oraz RBNZ  dokonali Cięć Stóp Procentowych...
After Second Central Wave - BOE & RBA...
CENTRAL BANKS NEXT ROUND : BOE - RBA - RBNZ VS FED...
Potwierdzenia w/w Scenariusza ATA padły wczoraj z Ust samej Yellen...tuż po 16-tej...
jednak tak jak hybrydują same rynki finansowe...tak modyfikacjom ulegają takie spektakle jak Sympozjum w Jackson Hole...
tym razem został Aktywowany Wariant na "  Dwa Centralne Głosy " ...!!!
i zza kurtyny wyłonił się FISCHER , który odwrócił GOŁĘBIĄ STRONĘ MEDALU na JASTRZĘBI REWERS...
 Finalnie nastąpiło PODWÓJNE UDERZENIE...!!!
 FORMACJA MÓWNICY zadziałała Podwójnie dokładnie...
Jednak PRAWDZIWY RUCH SMART MONEY na WALUTOWEJ SZACHOWNICY miał miejsce...
Po Pierwsze ze ZNACZNYM WYPRZEDZENIEM w stosunku do Impulsów Medialnych z Jackson Hole...
Po Drugie PRECYZYJNIE like DOUBLE IMPACT...!!!
Wykres DXY H4 ukazuje Elliotowską Strukturę Trójki , która wypełniła się już podczas sesji 18 SIERPNIA z precyzyjną równością  fal  :  A = C 
na rynkowym marginesie...
Druga Szansa wystąpiła podczas SHOT DOWN  - INVERT 2B  pod wpływem Motywu Yellen...
a przecież nie od dziś wiadomo, iż...
&
IN FED WE SHOULD ( DIS ) TRUST...
Always  Remember...
 Kluczowa , jak zawsze,  pozostaje Ostateczna Reakcja Smart Money... !!!
p.s.
cóż Motyw  to Motyw...
Fischer spełnił " powierzone  mu zadanie "...
ZALICYTOWAŁ DOBITNIE  " WRZEŚNIOWĄ PODWYŻKĄ "   w trakcie wczorajszego POKERA KŁAMCÓW...
a pozostałe rynki finansowe de facto spasowały...
Konkludując...
lecz czy rzeczywiście FED ruszy stopy we wrześniu przed Wyborami Prezydenckimi w USA i to w obliczu Aktywnego BREXIT-u, na który sam z siebie tak często sie powołuje medialnie ...!!???
Ku Przemyśleniom...
DXY Intraday H4 Chart :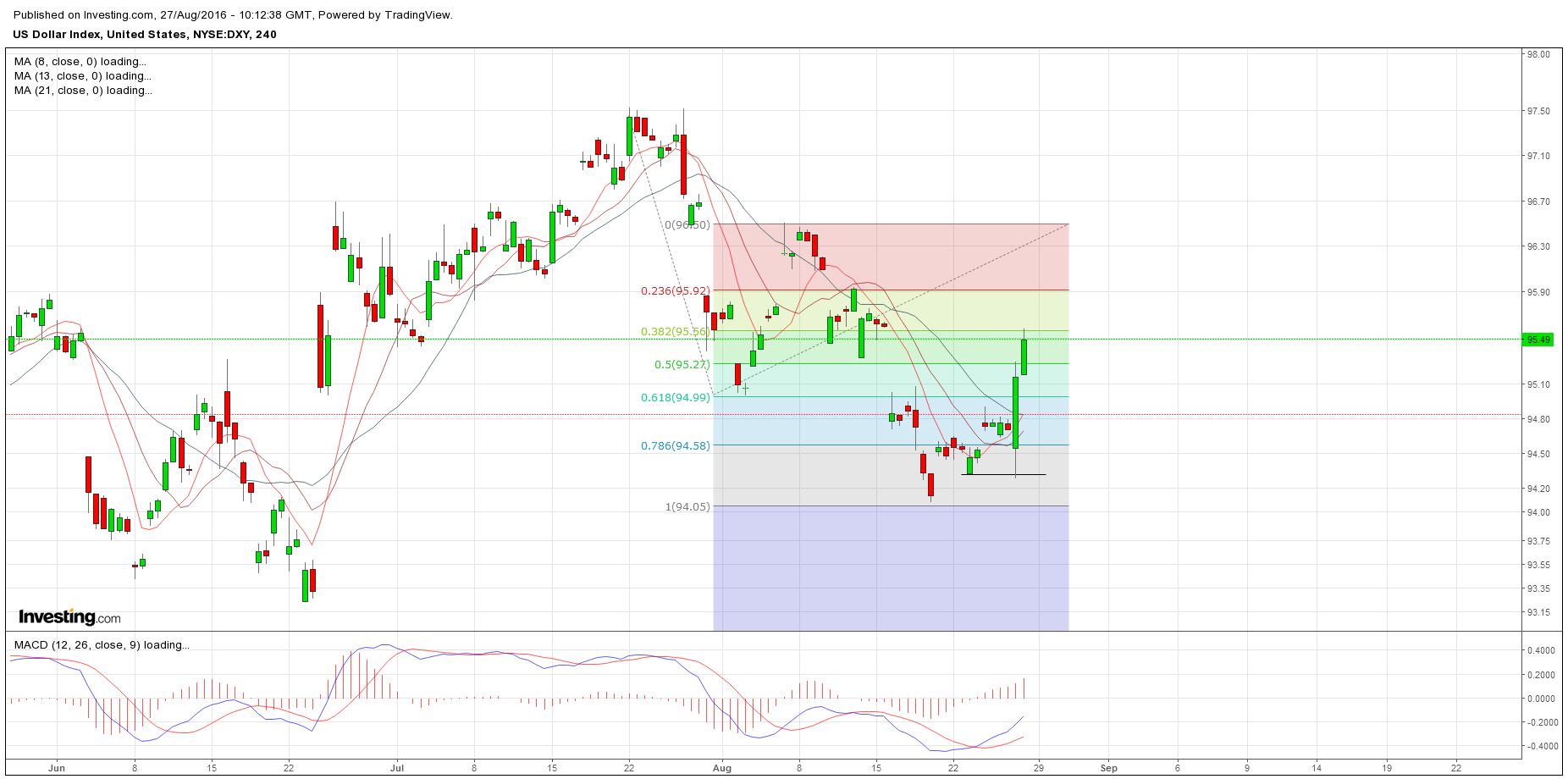 Powyższy Wykres wyśmienicie koresponduje z wcześniej zaprezentowanymi Wykresami Dziennymi  z 17 czy tez 24 sierpnia... 
 FED MINUTES - Another View of FED TIME GAME...