2012-01-20 11:50
Tytułowe zestawienie można porównać do bardzo rozchwianej Wagi z 2 szalkami - w ujęciu realnym 1 szalka to Euroland a 2 to oczywiście USA z kolei w pryzmacie rynku walutowego to odpowiednio EURO oraz USD...
W ujęciu makroekonomicznym to Diagnoza Agencji Ratingowej Fitch pozostaje, na tle mainstreamu skrajnych sformułowań i opinii, najbardziej bliska rzeczywistości i sprowadza się do jednoznacznego podsumowania - USA i Europa są bezradne wobec długu.
Natomiast w/w aspekt nie stanowi przeszkody by Kreatorzy Trendów na rynkach finansowych,wykorzystując z góry ukierunkowany na cel ( wzrost lub spadek kursu ) tendencyjny Trend Informacyjny, wywoływali a następnie w konsekwencji stymulowali Trendy Rynkowe.
W nurcie tej analizy ważnym czynnikiem pozostaje Skala owej Wagi, gdyż pozostaje ona de facto ograniczona, co ukazuje zakres notowań EUR/USD w horyzoncie długoterminowym. Skrajne dodatnie wychylenie sięga strefy 1.50-1.60 z kolei skrajne ujemne 1.20 - 1.30.
W jakiejś mierze można to przypisać jako konsekwencję Diagnozy Fitch, gdyż w tym starciu nie ma jednoznacznego zwycięscy i przegranego co potwierdza kurs rynkowy utrzymujący status quo w szerokim zakresie tendencji horyzontalnej ograniczonej od góry przez strefę 1.60-1.50 a od dołu przez 1.20-1.30.
p.s. na uwagę zasługuje fakt, iż za każdym razem kiedy kurs EUR/USD dociera do w/w skrajnych poziomów, impulsy informacyjne które go tam doprowadziły wygasają a w ich miejsce zaczyna pojawiać się i z czasem dominować nowy Trend Informacyjny o przeciwstawnym kierunku prowadzący w konsekwencji do celowego zwrotu i zmiany trendu rynkowego...
Wykresy EUR/USD ukazują obiektywnie opisany proces: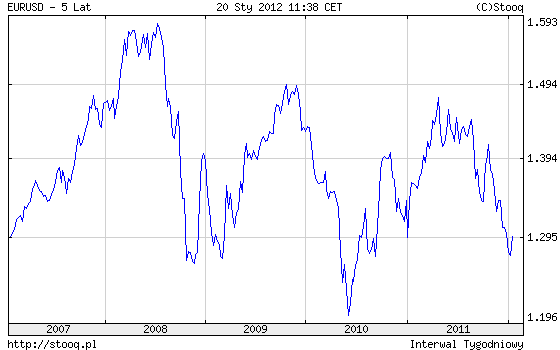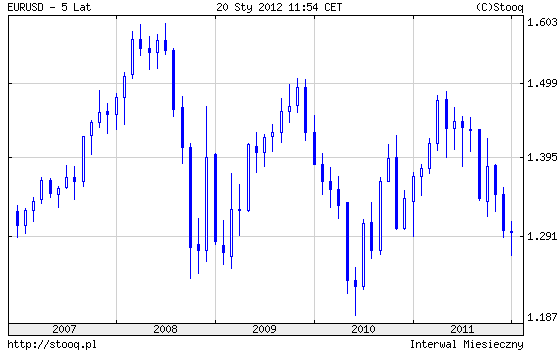 Wnioski prowadzą do analizy i monitoringu rynku EUR/USD ze względu na fałszywy, za każdym razem jak do tej pory, aspekt Trendu Informacyjnego, na który składają się przecież upubliczniane diagnozy , raporty oraz opracowania tych samych instytucji czy banków, które firmowały inne wnioski przy 1.60-1.50 a i zupełnie odmienne w strefie 1.20-1.30...
Ku przemyśleniom