2016-03-12 09:58
Kontynuacja wpisu ATA...
ECB - EURO-PEAN GREAT EXPECTATIONS...
Draghi wydał kolejny " STYMULACYJNY  DEKRET "  tnąc stopy procentowe i zwiększając miesięczną pulę skupu aktywów przez ECB oraz równocześnie, już podczas Konferencji stwierdził, iż czwartkowa obniżka stóp była już ostatnią w obecnym cyklu łagodzenia polityki pieniężnej ECB...
Reasumując...
Werdykt vs Słowa 
Werdykt Draghi : 
Aktywacja " NEXT EURO BAZOOKA " 
Wypowiedź Draghi :
Zakończenie Cyklu Obniżek Stóp Procentowych w strefie EURO...
Słowa jak wiemy doskonale , nawet z ostatniej finansowej " CENTRALNEJ HISTORII " Zapewnień..Wypowiedzi & Deklaracji...
NIC NIE KOSZTUJĄ...!!!
choćby warto przytoczyć Projekcje Twórcze tych samych Bankierów Centralnych , zgodnie z którymi kryzys miał sie skończyć już wiele lat temu...PKB miał powrócić do Zakresu sprzed Ery Lehmana a Inflacja do tzw celu inflacyjnego...
począwszy od FED...
 gdyby " zawierzyć "  wszystkim , wypowiedzianym w 2014 & 2015 roku,  Słowom Szefowej FED Janet Yellen wówczas obecny poziom stóp proc w USA powinien być zdecydowanie wyższy w wyniku kilku Podwyżek stóp proc przez FED & to  jak zawsze " for sure "...
Pełna Analogia w przypadku ECB czy BOJ...
Działania z ostatnich lat w wykonaniu ECB czy BOJ miały uczynić Europę & Japonię Krajami " miodem i mlekiem płynącymi " a tym czasem uczyniły   obszarami "  bezkresnego dodruku pustego pieniądza "...
Cóż bez względu na wszystkie w/w Aspekty Globalnych Działań & Deklaracji Bankierów Centralnych
po raz N-ty na wyeksponowanie zasługuje NAJWAŻNIEJSZA  TEZA...
Tak jak bez względu na Wydźwięk Wszystkich Posiedzeń ECB, FED & BOJ ...czy też innych Banków Centralnych Świata...
...nie Sam Werdykt czy też stricte Słowna Retoryka...Deklaracje & Zapewnienia  są najważniejsze...
nie...nie..nie..ABSOLUTNIE NIE...
Kluczowa , jak zawsze,  pozostaje Ostateczna Reakcja Smart Money...!!!
Tak też było i tym razem zgodnie z grudniowym Schematem Gry Smart Money ukazanym ex ante jako Preferowany Scenariusz Warunkowy ATA przed ostatnim czwartkowym Posiedzeniem ECB...
Niezmiennie...
" GRA SIĘ TAK JAK PRZECIWNIK POZWALA "
zgodnie z  ATA MIND OVER MARKETS...
ATA MARKET MODEL : 
First...Market Motive...
Second...Market Technical Formation...
Motyw - Posiedzenie ECB 
Formacja Techniczna - Invert H&S wraz z jej Liną Szyi...
...która nota bene zadziałała w sposób perfekcyjny jak Wsparcie w momencie dynamicznego ruchu powrotnego tuż po Werdykcie ECB z 13:45...
oraz powstała jako jej pochodna Formacja Podwójnego Dna -W w strefie 1.08...
 na marginesie w/w Schemat Gry Smart Money jako  kolejny w okresie ostatnich miesięcy pokazuje jak zostają " ZDOLAROWANI " wszyscy Ci którzy bezgranicznie uwierzyli w "  KONIECZNOŚĆ UJRZENIA PARYTETU EUR/USD " , którą głosi wyspecjalizowany w tego typu akcjach dezinformacyjnych mainstream...
i to za każdym razem kiedy zbliża się Posiedzenie ECB bądź FED...
EUR/USD Charts :
10 marzec 2016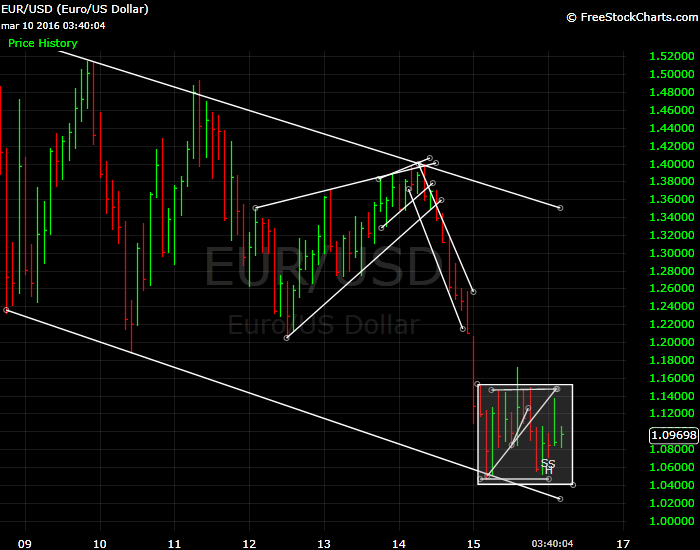 11 marzec 2016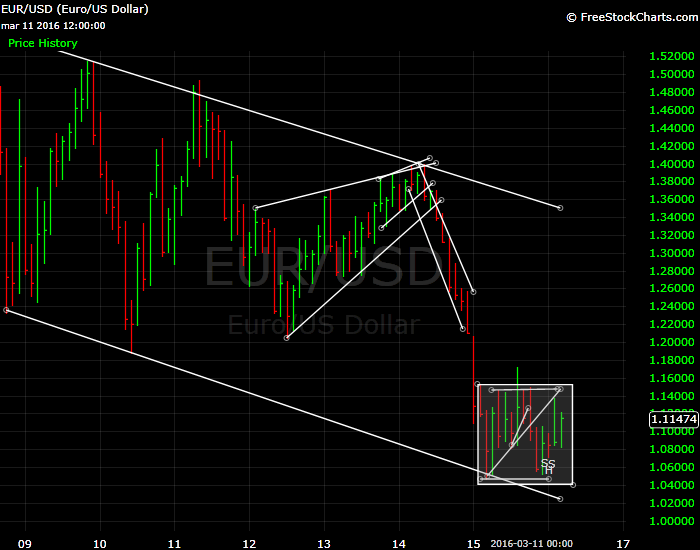 10 marzec 2016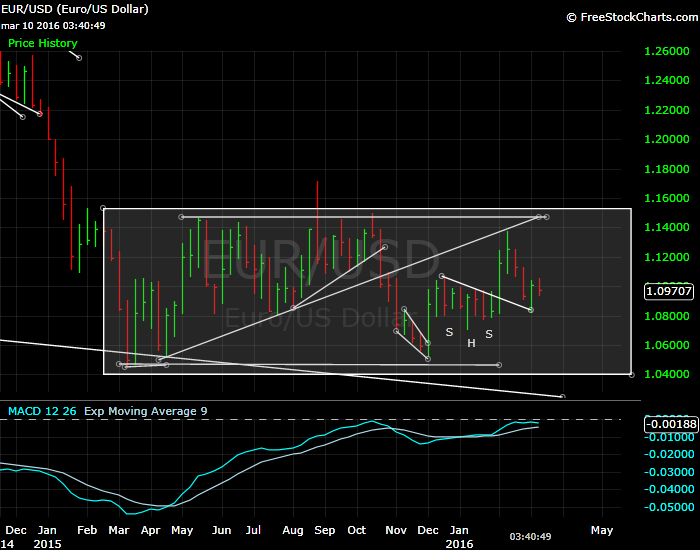 11 marzec 2016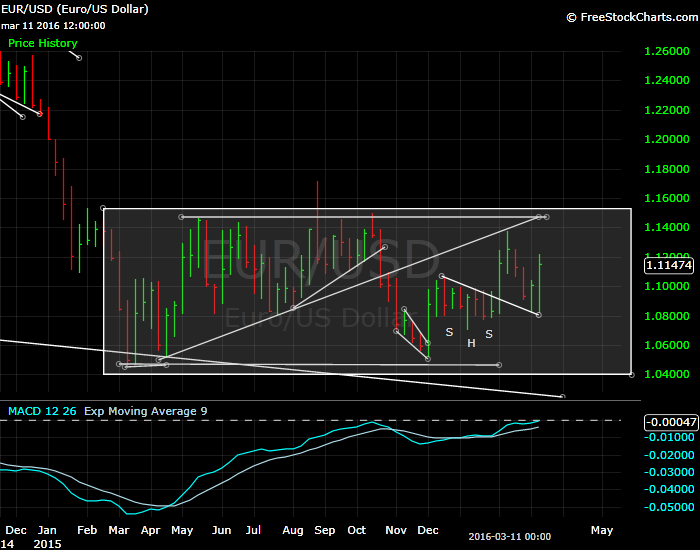 10 marzec 2016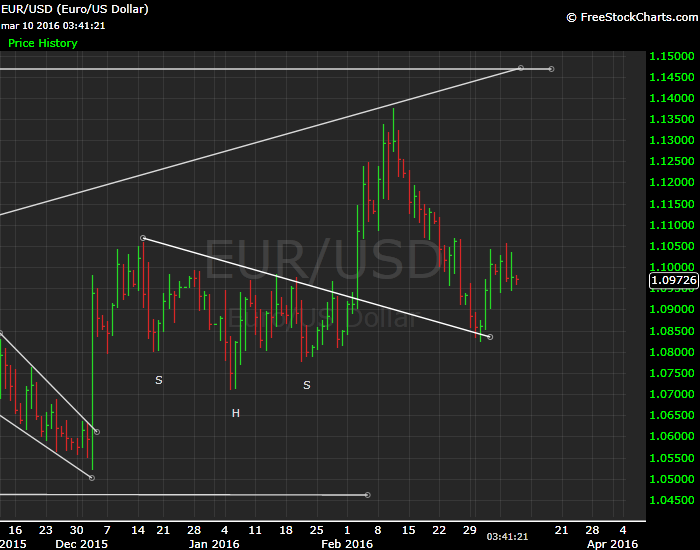 11 marzec 2016