2016-10-01 08:58
Kontynuacja  ostatnich wpisów  ATA dot Deutsche Banku...
DEUTSCHE BANK in EYE OF THE MEDIA STORM ...
&
DEUTSCHE BANK - NEW SPECIAL NEWS - HEDGE FUNDS FEAR ...
Niech za Wstep posłużą Cytaty  z wczorajszego wpisu ATA ...
"  Jedno jest Pewne - ta Akcja Medialna  była  od A do Z  - CELOWA...!!!
 Owym Celem było WYWOŁANIE PANIKI  & w następstwie kolejny ZRZUT AKCJI...
ZRZUT w CELU   " WZIĘCIA "...   " 
&
"  After Last Hedge Fudns News now we should  wait for Another Impulse... " 
Przedwczorajsze Tapniecie  Kursu DB w USA &  wczorajsze poranne w Europie rzeczywiście było CELOWE...!!!
Perfekcyjnie zadziałał Schemat ATA SHOT DOWN & SHOT UP...
&
"  Fantastycznym  zbiegiem okoliczności " - oczywiście dla rynkowego tłumu...a nie Kreatorów   DB BLACK NEWS  &  SHOT DOWN ...
rzeczywiście zgodnie z...  " Another Impulse " by ATA  wczoraj pojawiły sie NEXT ..this time...GOOD NEWS...
First DB Information Impulse :
Deutsche Bank CEO John Cryan Memo Impulse :  
"  Deutsche Bank has strong fundamentals...  "
" Some forces in the markets are currently trying to damage this trust. "
Kwestia pozostaje otwarta KTO...
Zapewne Konkurencja pragnąca przejąc Aktywa bądź Klientów DB...
realna analogia z Lehman Brothers vs Goldman Sachs, który szczególnie " przyczynił sie " do Upadku Lehman Brothers...
przy równoczesnej mega-pomocy AIG....
 "  Context of the bigger picture: Deutsche Bank overall has more than 20 million clients... " 
vs 
Thursday News 
 "  ABOUT 10 HEDGE FUNDS SAID TO HAVE CUT DEUTSCHE BANK EXPOSURE "
PERFECT  DB CLIENTS  RELATIONSHIP 
20.000.000  VS   10 
Second  DB Information Impulse :
"  DB  is closing in on a $5.4 billion settlement with the US government... "  
vs 
Elier News 
"  it may be subject to $14 billion in fines  by US regulators "  
 ANOTHER  DB   RELATIONSHIP 
5.4  VS   14   (  USD Billion ) 
W/w Impulsy Informacyjne , przewidziane przez ATA ex ante , spowodowały  ukazany z wyprzedzeniem ZWROT  na Rynku Akcji DB po CELOWYM ZRZUCIE...
ATA PREFEERED SCENARIO - SHOT DOWN & SHOT UP WAS ACTIVATE... 
W/w ZWROT  DB  pomógł w zdecydowany sposób Segmentowi Banków notowanych w Europie & USA i tym samym Indeksom DM Akcji...
Rzeczywista Aktywacja Long nastąpiła w Momencie Powrotu Kursu DB > KEY LEVEL 10 EURO...
 DB - INVERT 2B FORMATION -  KEY LEVEL 10 EURO 
w wyniku dynamicznego wzrostu poranna europejska Luka Wyczerpania została zamknięta...
p.s. 
Focus on Volume...
Deutsche Bank  Intraday ( H4 ) Charts :
ex ante...
Friday Morning - Shot Down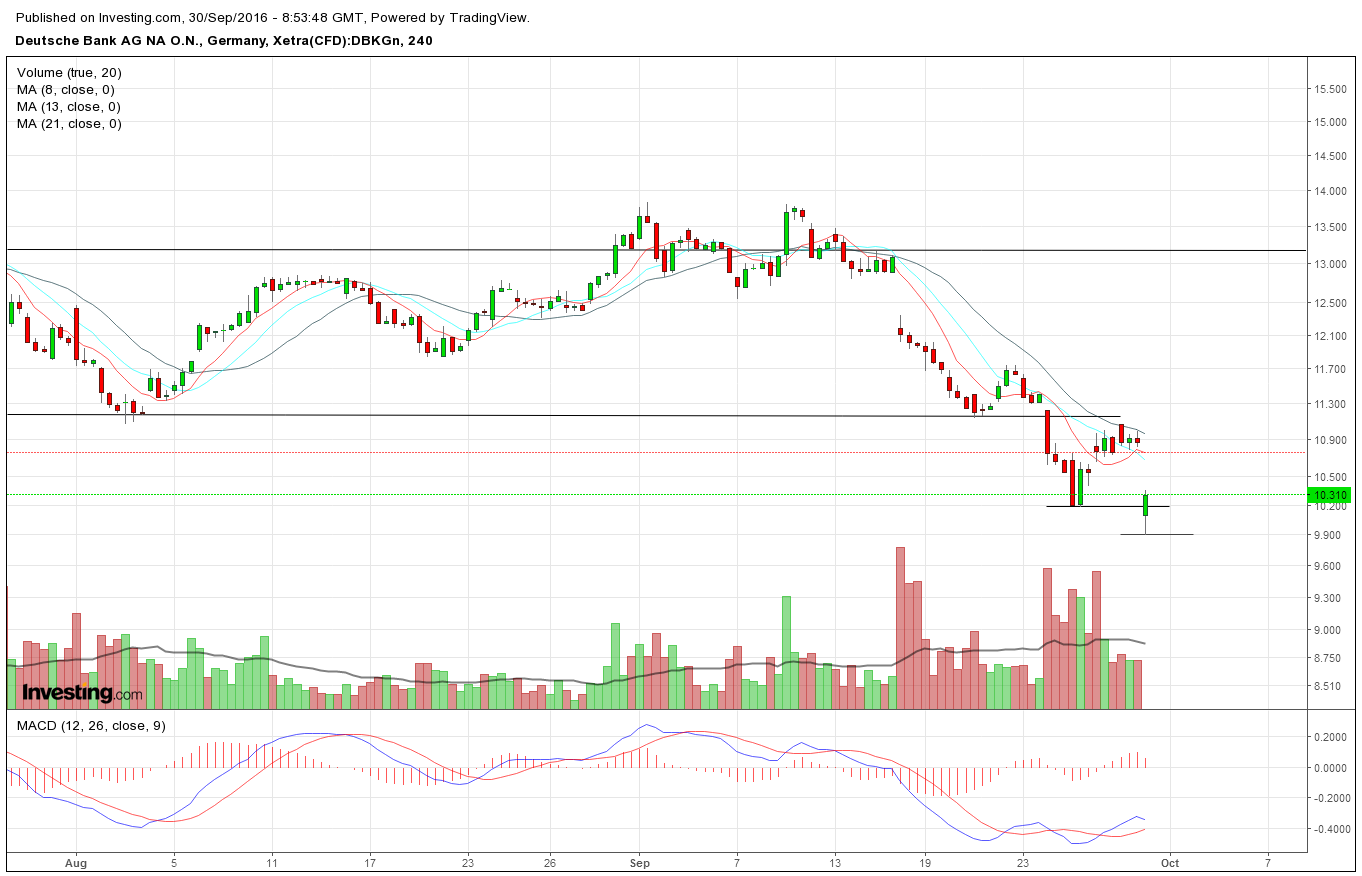 ex post...
Friday Evening  - Shot Up