2016-02-04 13:28
Proponuję by powrócić do wpisu ATA z początku listopada 2015...
Deutsche Bank - Truth Vector of European Bank Sector
Ówczesny kurs w/w banku wynosił 25.47 EUR...
Dzisiejszy kurs to 14.92 EUR...
w tym miejscu KLUCZOWA PODPOWIEDŹ w formie  porównania & wykresu...
EKSPOZYCJA DB na Rynku Derywatów = 5-krotność PKB Strefy EURO & 16-krotność PKB Niemiec...!!!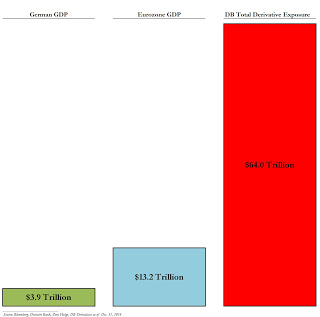 Reasumując powinno się postawić STRATEGICZNE PYTANIE...
CZY LECI Z NAMI PILOT...!!???
Czy leci z nami pilot (1980) Movie Trailer
A słysząc " deutschland deutschland über alles " ...
należy się  poważnie zastanowić nad kondycją  " naszego " z nazwy gdyż de facto wykupionego " landu montowni & dyskontów "...
Ku Przemyśleniom...
DB Chart :