2016-04-09 11:13
Dzisiejszy Wpis ATA stanowi Naturalną Konsekwencję  EUROPEAN BANK RISK OFF WAVE...
ukazaną na przykładzie kursu  Niemieckiego upadłego Giganta  - Deutsche Bank...
pierwszy raz  na początku listopada 2015...
Deutsche Bank - Truth Vector of European Bank Sector
drugi raz na początku lutego 2016...
Deutsche Bank or Deutsche Casino ...
Obecnie w pierwszej połowie kwietnia 2016 NIC NIE ULEGŁO ZMIANIE w tzw szeroko pojętnym  " DOBRYM KIERUNKU "...
UWAGA...
& to pomimo marcowego  " ECB PRINT BAZOOKA " ...
ECB - EURO-PEAN GREAT EXPECTATIONS...
DRAGHI WERDICT VS DRAGHI WORDS...
SO LET ME ASK THE FINAL QUESTIONS ...
WHAT'S INSIDE DEUTSCHE BANK "...!!???
WHAT'S INSIDE EUROPEAN BANK SYSTEM...!!???
&
WHAT KNOWS...OR NOT...MARIO DRAGI ABOUT EU BANKS ASSETS...!!???
p.s. tym bardziej iż podczas ostatniego Przemówienia w ubiegłym tygodniu sam Szef ECB wspomniał o...
RATOWANIU BANKÓW STREFY EURO...
Cóż...bez względu na w/w Pytania...Newsy & Słowa Super Mario...
kurs DB mówi sam za siebie...!!!
gdyż jest poniżej 2009 LEHMAN PANIC LOW...
& równocześnie daje rodzaj Potwierdzenia, iż KRYZYS W EUROPIE TRWA NADAL...!!!
z jednym wyjątkiem...jest kontynuowany w zaciszu gabinetów...poza mainstreamem informacyjnym, skupionym teraz...zapewne celowo na  na tzw " Kryzysie Migracyjnym "...czy też jak ostatnio... " Panama Papers "...
Reasumując należy spokojnie czekać aż  przysłowiowy " Trup z niemieckiej szafy "  wypadnie...stając się w ten sposób  oficjalnie upublicznionym...
Dopiero Reakcja Smart Money na tego typu News ukaże prawdziwy ostateczny " Wyrok "  rynkowy dla DB...
NOW FOCUS ON IMPORTANT  KEY LEVELS : 
Down - 13  I  10  EURO
&
UP  - 18 EURO - RESCUE LEVEL 
DB Charts :
listopad 2015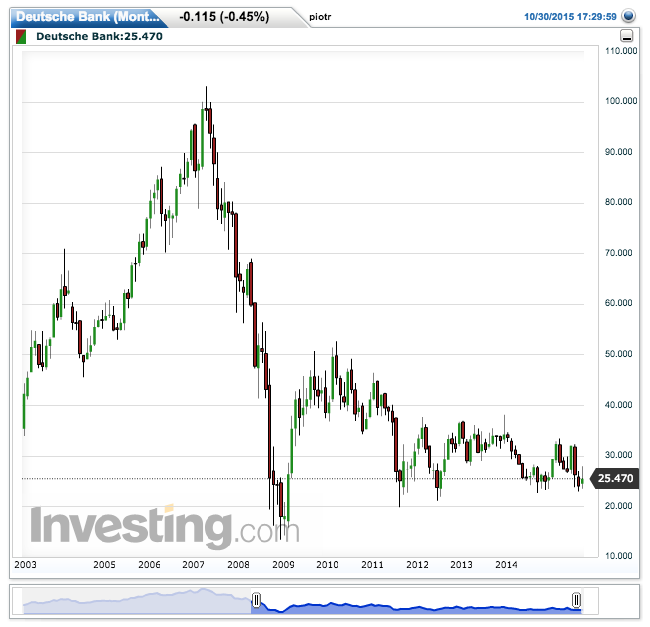 luty 2016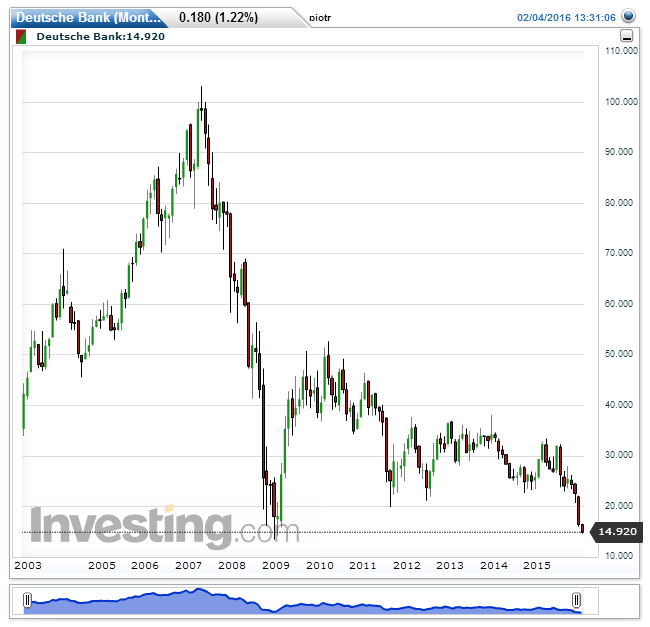 kwiecień 2016